Top 10 Songs in Hollywood 2019
December 21, 2019
Since we've already discussed the best music of the decade and the best albums of 2019,  it is time to narrow the scope a little bit and considered the individual tracks that mattered this calendar year. 2019 has been a mutative year for music—one in which the established superstars kept relatively quiet, making space for promising newcomers like Billie Eilish, DaBaby and Lizzo to command the charts. Eilish itself has had such a huge debut in 2019, it's easy to feel only a few months after her debut album that she's been famous for years.
1. Rosalía feat. J Balvin & El Guincho, "Con Altura"
The flamenco-infused urban melodies found in "Malamente" put Rosalía on the radar in 2018, but it was "Con Altura," released on 28 March, that really put the Spanish singer on the world map. In cooperation with El Guincho and J Balvin, "Con Altura" broke many urban platitudes, spotlighting Rosalía's skill to fuse traditional styles with reggaeton.  But by including traditional flamenco elements into the beat, she managed to create a sound all her own — and one accessible enough for it to become her first top 10 hits chart and Its views are 1,174,144,706.
2. Billie Eilish, "Bad Guy
"Billie Eilish has been living on cloud nine newly. In the end, she met her life dream celebrity crush Justin Bieber in person and everyone's been crazy about her set at Coachella. It's not the end, but her music is also beautiful charts. In the song, Billie's taunting the guy she's with, calling itself the "bad guy." It views are 680,514,764. Taylor Swift has apparently moved on from threading setup and electro-pop into radio catnip, but 17-year-old pop prodigy Billie Eilish is ready to pick up Swift's discarded Hot Topic mascara and lead the charge with "Bad Guy," easily the biggest Hot 100 hit of her still-budding career. And why even bother? In the hands of Billie, it sounds an awful lot like the future. Whether Young William Eyelash really wants to wear your boyfriend's cologne and seduce your dad or is just clowning on us — the smirking "duh" that caps the chorus is probably an important clue — doesn't change the fact that when the cartoonishly villainous synths kick in after that deliciously eerie vocal flutter, it's nearly impossible to resist the Dark Side.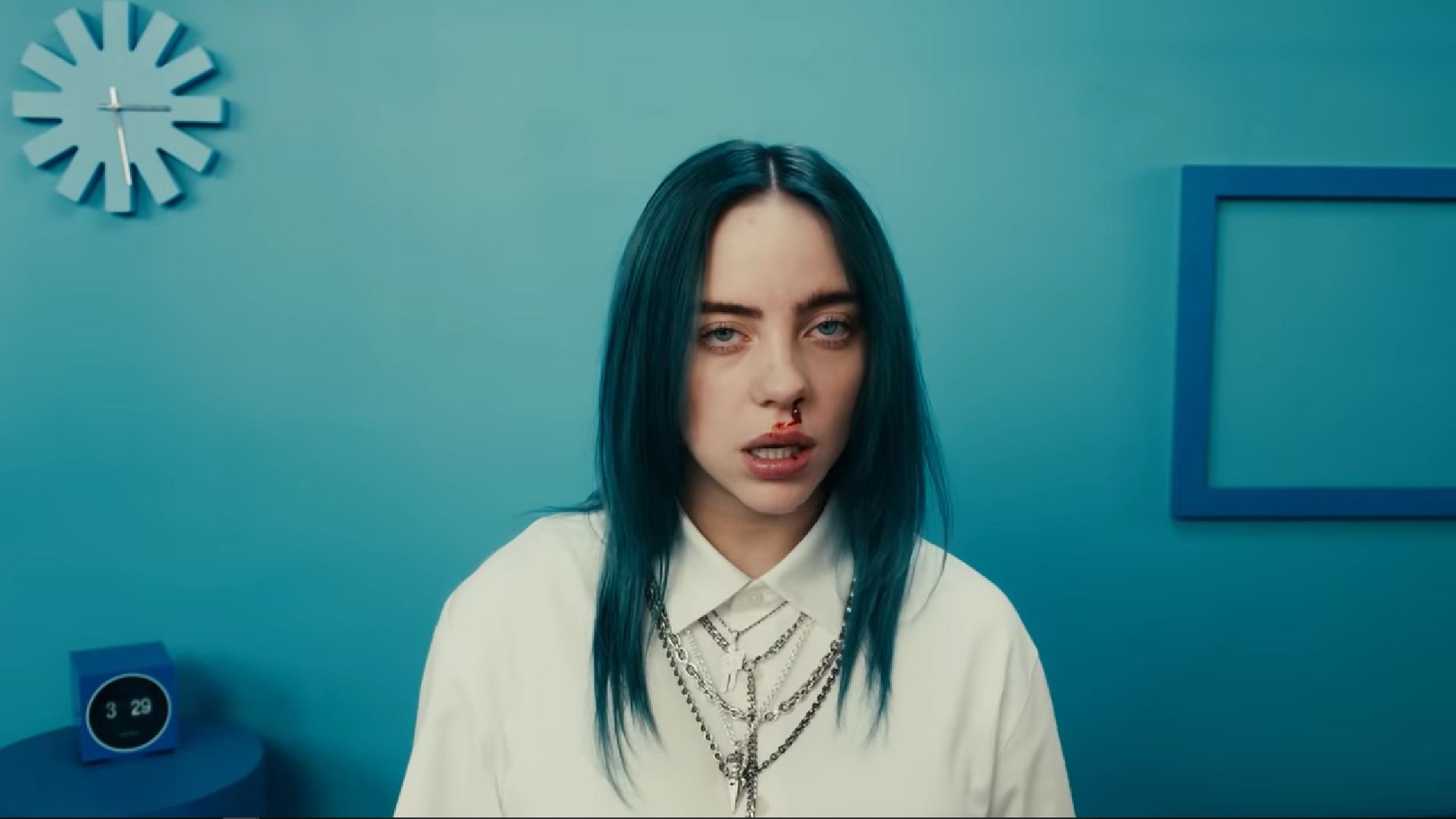 3. Jonas Brothers, "Sucker"
"Sucker" is the pop song of Jons Brothers' hit comeback single. It's a pop song about how far they would go for the girls they are attracted to. In this video, those girls are their real-life partners, such as Sophie Turner, Danielle Jonas, and Priyanka Chopra. They're exactly living out every girl's dream. At least we have this song to dance together.
In an era where haunting melodies and lyrical clarity rule and genre lines have been blurred more than ever, the Jonas Brothers made their triumphant return with "Sucker" — and ultimately proved that feel-good pop-rock isn't totally dead on top 40. While there were a lot of fans around the world eagerly awaiting a JoBros reunion, the snare-snapping beat and whistling hook of "Sucker" made it an undeniable hit to anyone who listened, regardless of its year of release. But with a No. 1 debut on the Hot 100 and a multi-week reign on the Pop Songs chart — both firsts for the sibling trio — the song also shows that the 2019 Jonas Brothers era maybe even bigger than their late-2000s heyday, something that not even the trio themselves saw coming.
And though they've each traded purity rings for wedding bands, the brothers made their love stories part of the "Sucker" odyssey, recruiting their real-life wives for the extravagant (but gratifying) video. The song was the match to the flame that is the Jonas Brothers' comeback, and now they're just about everywhere you look: magazine covers, Amazon Prime, Saturday Night Live, and soon enough, all North America on their enjoyment Begins Tour. But if they keep dishing out pop hooks this memorable bit doesn't seem anyone will mind: the Jonas Brothers have officially made America suckers for them once again. It views is 239,130,022.
4. Ariana Grande, "7 Rings"
From J. Lo's Latin-flavored "Dinero" to Cardi B's beating "Money," last year saw its fair share of female stars turn on their wealth. But who would have thought that Ariana Grande's cash-flow anthem, arriving late to that party in January, would go the hardest? Released as the second single from the ponytailed pop queen's then-just-announced thank u, next, "7 Rings" finds Grande bragging about "lashes and diamonds, ATM machines" over a polished, tip-toeing beat with all the swagger of a seasoned rapper, and gifting listeners the immediately iconic one-liner: "You like my hair. It views are 651,530,401.
5. Ava Max, "Sweet But Psycho"
So nice of Ava Max to let pop be attractive again. With Top 40 and Spotify playlists dominated by average rate minor-key melancholia, Max's breakthrough channels the dopamine rush of late-'00s dancefloor glam we've scarcely seen since the coming days of lady Gaga, Kesha and Katy Perry. Po-Po-Po-poker face or ma-ma-ma out my mind, Max proved there's still an eager desire for this stuff: "Sweet But Pyscho" has been a thing since 2018, but its interest on Pop Songs and the Hot 100 (No. 10) were its highest yet. Its view are 483,846,105.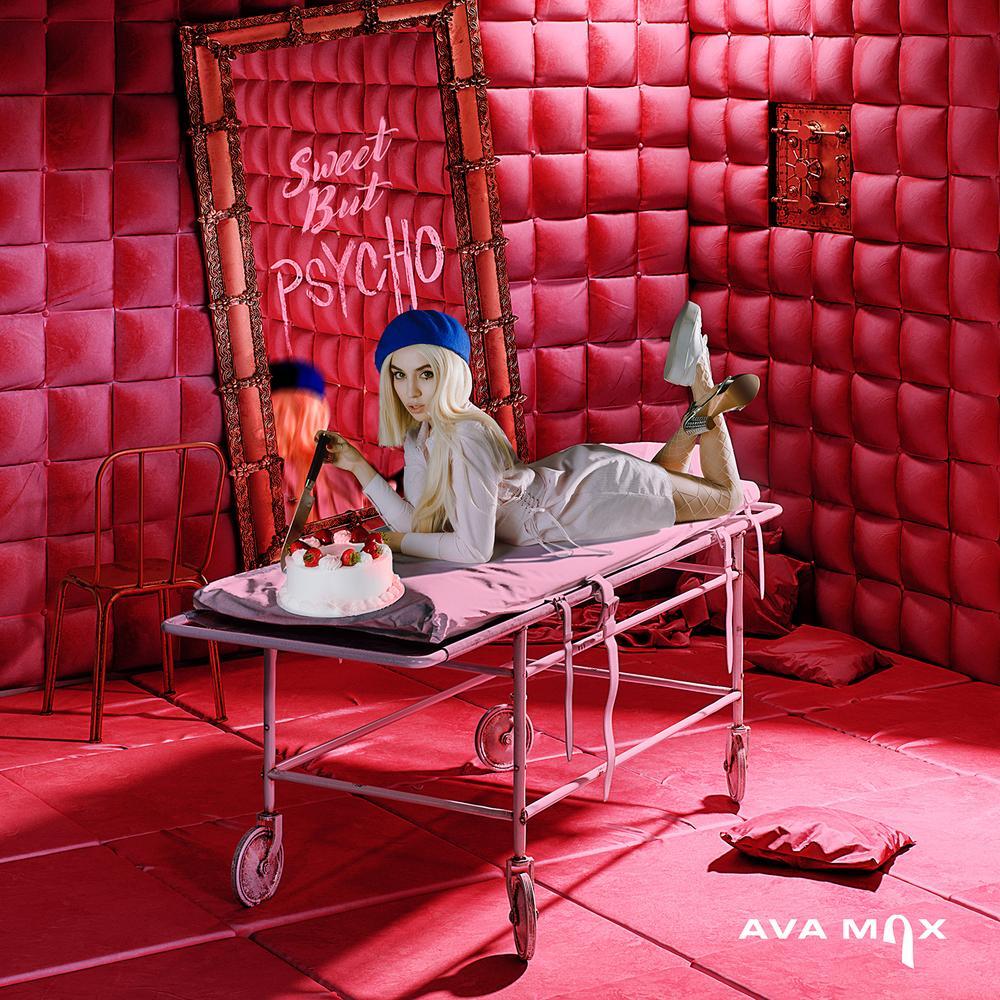 6. DaBaby — "Suge (Yea Yea)"
In this story goes, DaBaby made 2019's breakout smash hit "Suge" right after pleading his label for a check. As he told the Breakfast Club in October: "I told [my label], 'It's been two to three weeks. Where that check it?' I want to know it's there. I  know if I'm really living like that. I don't want to record anymore. I am tired of this and broke as hell spending all this money on flights and stuff. They were like 'It's in there.'" That night he went into the studio to record "Suge," an ode to Suge Knight about the challenges and turmoil of just starting out in the industry. So it seems only fitting that this track would become a massive success, fully marking DaBaby as one of 2019's most successful new artists. His sense of humor and in-the-moment storytelling make him one of the most interesting new stars of the year—and since his multiple Grammy nominations for "Suge," this is not the last we'll be hearing from him. Its views are 185,118,195.
7. "Dancing With a Stranger"
Sam Smith and Normani like an incredible pair. Sam continues to be the superhero that he is and Normani sets herself as the star she was always meant to be. These two are a match made in heaven in this beat-thumping track that will surely remain on the charts for a long time. Its views are 492,402,089.
8. "Please Me"
Cardi B and Bruno Mars are a charming duo. After "Finesse" came out they knew we needed more and blessed us with another partnership. The lyrics of the track feature the two romancings with each other. Bruno is pleading for Cardi's attention as he sings, "Please me, baby,/ Turn around and just tease me, baby/ You know what I want and what I need, baby." It views are 288,254,791.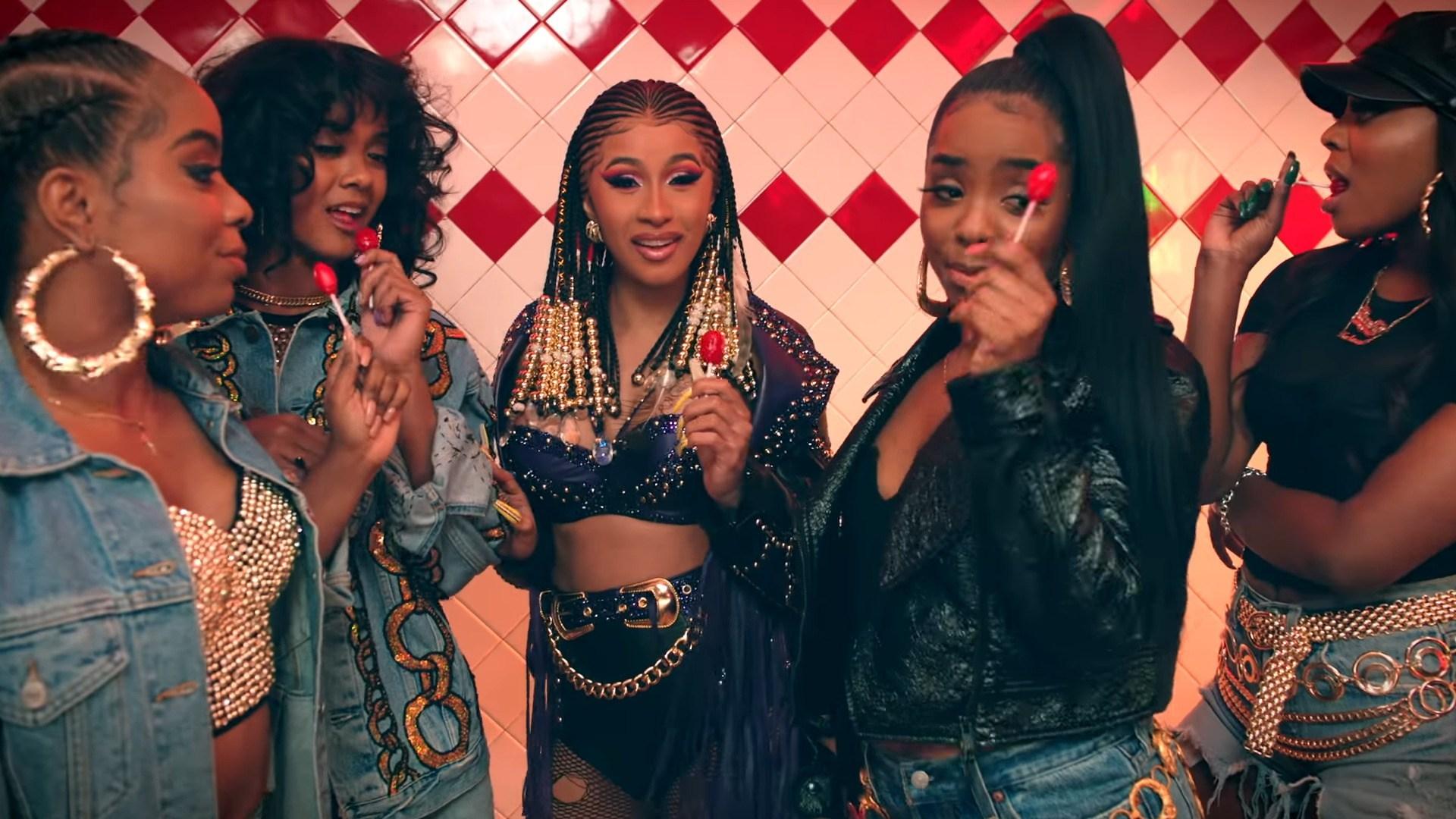 9.  "I Can't Get Enough"
The song was specially written with Selena in mind. It's about a girl who's completely crazy with her lover. The music video features the group playing on a huge bed while playing around and having fun. It view are 190,941,146.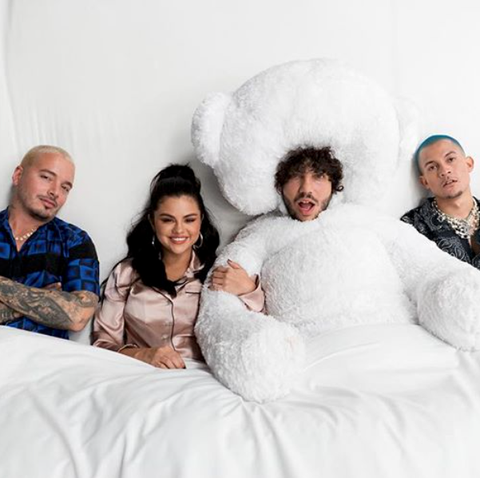 10. Lil Uzi Vert — "Free Uzi"